Initiatives
Outreach Ministry (Visitation):
If you or someone you know would appreciate a visit from a parish member from the Outreach Ministry, please contact the Parish Office.
---
Prayer Network:
If you have a prayer request, please contact the Parish Office.
---
Prayer Shawl Ministry
Since September 2011 members of the Prayer Shawl Ministry have made and
donated almost 500 shawls to people who are in need of the comfort of
prayer for many reasons. Some request shawls for themselves, for friends
and family who are experiencing illness, family problems, joyful events,
and losses. Anyone who needs prayers can request a shawl. Our shawls have
gone across Canada and to Europe. This Ministry is available to anyone,
regardless of religious affiliation. As a group we meet annually with an
interdenominational group which shares the same Ministry in their
respective churches.

One of our newest projects is to make Baptismal shawls which are always
white and are placed on the child to represent the "white garment"
mentioned in the Baptismal rite.

Our group meets on the third Tuesday of the month in the parish library at 1:00
p.m. All knitters and crocheters are welcome to join and help with this
Ministry. At these meetings we pray for anyone who has received a shawl as
well as share stories about the shawls we have made.

All shawls are given at no cost to the receiver but we do accept donations
of yarn or money to purchase yarn.

Questions or requests for shawls may be directed to Danielle Pilon at
519-669-2606 or contact the Parish Office.
---
St Teresa of Avila Ministry for New Canadians
MISSION STATEMENT - To welcome and support a BVOR family for one year as they integrate into Canadian life.
The Blended Visa Office-Referred (BVOR) Program is part of Citizenship Canada's (IRCC's) Private Sponsorship of Refugees Program, within which the Diocese works to match parishes with an IRCC-referred profile of a refugee individual or family for sponsorship.
COMMITTEE MEMBERS:
LEAD TEAM – Pat Gleeson / Marianne Kraemer / Mike Kraemer
FINANCE – Chris Cassidy
Diane Smith, Adrian Miltenburg, Tom Fahey
HOUSING – Mike Mayne
Colleen & Dave Brown / Judy Mayne / Deb & Phil Gleeson
ORIENTATION AND CULTURE – Lisa Howell
Tak Shibayama / Derek Goetz / Lisa Denomme / Isabella Maher / Nancy Lucier
TRANSPORTATION – Ray Denomme
Greg Elliott / Danielle Pilon / Jim Goll / Larry Knarr / Ken Kurtz
HEALTH – Sheila Forler Bauman
Marianne Kraemer / Lori Hanmer / Barb Harnock / Joanne Guerrero
COMMUNICATION – Marty Merlihan
Colleen Weber / Marianne Kieswetter
EDUCATION, TRAINING, JOBS – Audrey Gleeson
Mary Baldasaro / Carol Jongerius / Owen, Sarah & Evan Lucier
UPDATE – January 1, 2018
To view the lastest update, click here. Picture below are Amina and Yaser celebrating Salma's first birthday.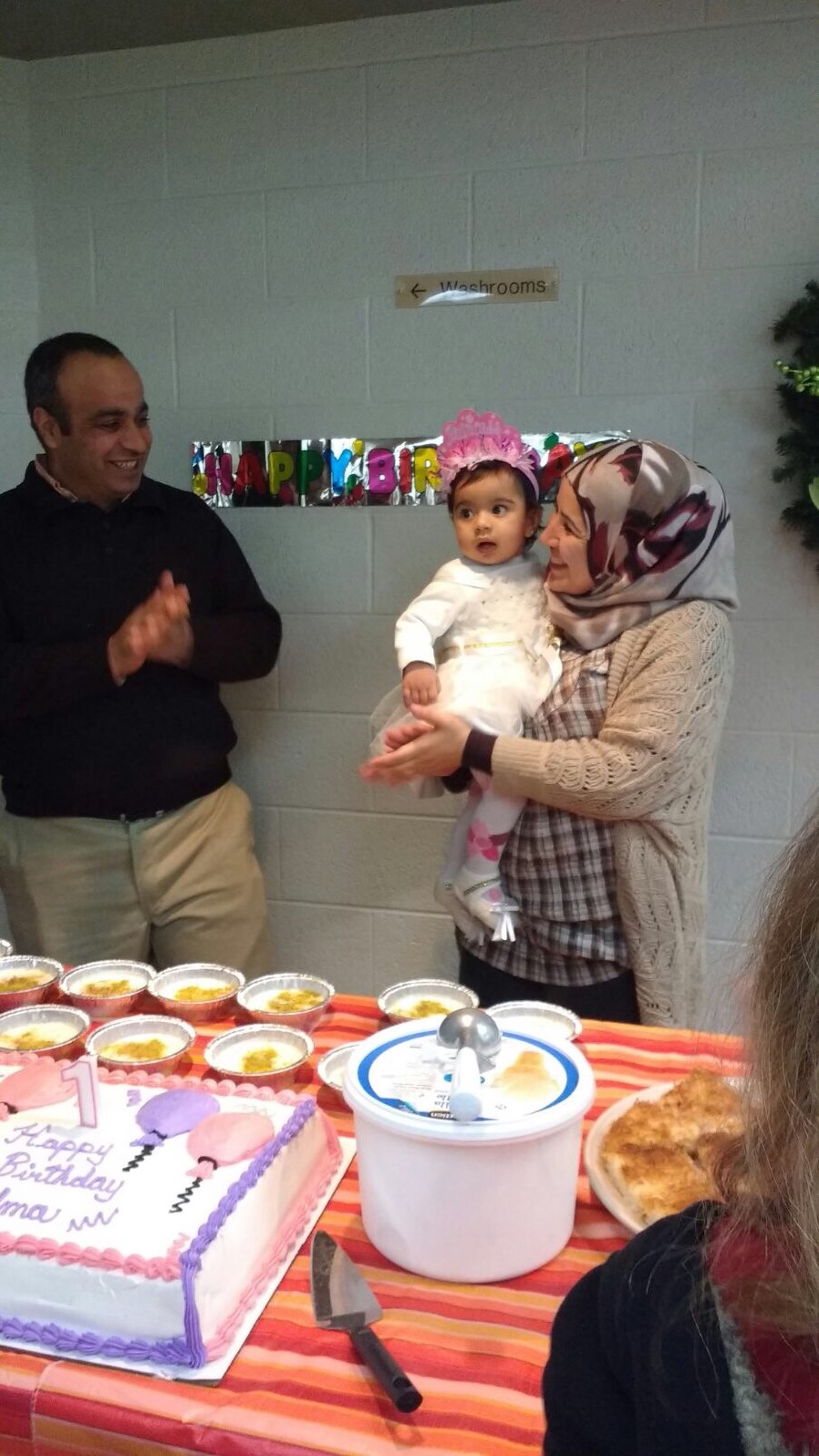 UPDATE – November 10, 2017
To view the update, click here.
---
Development and Peace
WHAT IS DEVELOPMENT AND PEACE?
It is the arm of the Catholic Church in Canada that has been reaching out to poor farmers in the Global South for the last 49 years. We have supported this amazing organization of outreach that was started by our Canadian Bishops, 49 years ago. It is something that we can be proud of. Development and Peace truly helps people to help themselves.
Fall 2017 Action campaign theme: "Women at the heart of Peace"
A photocopy of this year's Action Card was included in the bulletin.
You have the opportunity to sign an actual Action Card after Mass. The cards are on the table in the narthex. Please sign your name and address and leave the card with us to be sent to the Prime Minister for you.
The card states that Canada has an international assistance policy to help women and girls get involved in peace initiatives.
BUT
Our Government still maintains economic partnerships with countries that abuse women and children

AND
Our Government still has not increased its international assistance budget to the promised 0.7% of gross national income.
This is a chance for our church to participate in a national action campaign that is much greater than just ourselves. We appreciate you taking the time to fill one out and supporting our Action campaign.