Mass Schedule & Sacraments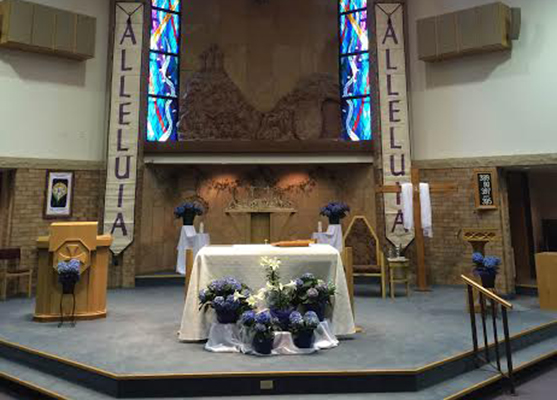 ---
Special Mass Times
Christmas Eve Dec 24th - 5:00 pm & 7:30 pm
Christmas Day Dec 25th - 10:00 am
New Year's Eve Dec 31st - 5:00 pm
New Year's Day Jan 1st - 10:00 am
Weekend Masses:
Saturday - 5:00 pm
Sunday - 9:30 am
Weekday Masses and Mass Intentions can be found in the Bulletin.
Do you or a loved one need a ride to church? We offer DOOR TO DOOR BUS SERVICE in Elmira and St. Jacobs to the Sunday 9:30 am Mass. Cost is $5.00 per ride. For information or a ride call Greg Elliott at 519-669-4830.
Daily Mass readings can be found on the website Our Catholic Prayers and when there, click on the blue link titled Daily Mass readings.
Travelling within Canada? Find Mass times for a church near you on Canada Mass Times.
Find a church just about anywhere, Join My Church includes 193,700 churches across the globe and this number continues to grow!

---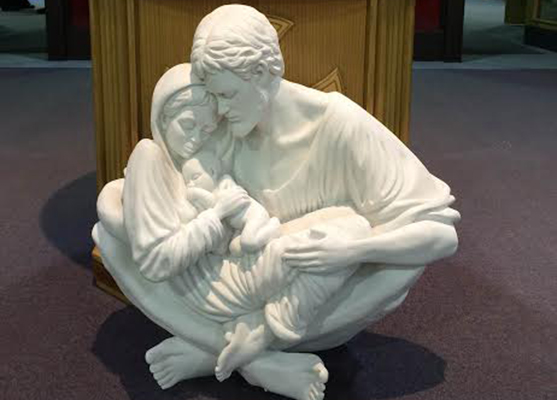 Adoration: Every Friday from 9:30 am to 12:30 pm
"Could you not watch one hour with Me?" What is Adoration?
Stations of the Cross - Pray the Stations of the Cross provides you with the Pope's booklet of prayers and includes pictures of our new Stations (beautiful pictures taken by our very own Geoffrey Maher).
Reconciliation: Tuesday 6:30-7:00, or by request.
Baptism: (4th Sunday of the month) Parents, please contact the Parish Office and pick up a Baptism package.
First Reconciliation/First Communion: (May) For students in Grade 2. A six week preparation program offered by the church for both sacraments. Instruction takes place during the Sunday Mass. Catholic students attending public school need to be registered with the Diocesan Catechesis program. If you have any questions, please contact the Parish Office
Confirmation: (May) For students in Grade 7. An eight week preparation program offered by the church. This is an evening class where students prepare for one of the most important sacraments in the Church. If you have any questions, please contact the Parish Office.
Marriage: Please contact the Parish Office six months prior to desired date. Marriage course required.
Sacrament of the Sick: Please contact the Parish Office and let us know of any who are shut in or sick in the hospital so they may receive the comfort of the Church's sacraments and prayers.
---
Electronic withdrawal – making your weekly offering simple and convenient by switching to once a month withdrawals.
Ever find yourself rooting through your wallet to find cash that's not there or having to take time to write a cheque each week and then forgetting it at home?
Electronic giving is the solution!
Your offering is withdrawn directly from your bank account monthly - it couldn't be easier! Snowbirds can still contribute while they are away and the summer cottage folks and summer travellers can do the same so operating expenses are covered. You will still receive a box of Offering Envelopes for special collections during the year (like Easter or Christmas etc).
You can start giving electronically, change the amount or cancel the electronic withdrawal at any time simply by calling the Parish Office. Switch to electronic!
We appreciate and thank you for your generous support!
'Give and it will be given to you.'